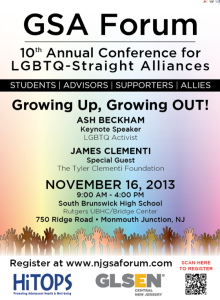 It's that time of year again, where students from all over New Jersey convene to listen, learn, and provide meaningful support to their LGBTQ peers and allies. The 10th annual NJ GSA Forum will be taking place on Saturday November 16th at the South Brunswick High School.
This year's keynote is with Ash Beckham, LGBTQ activist, who was made famous for the talk given at IGNITE! Boulder. wWe are more than tickled to have such strong leadership and support with us this year.

We also have special guest James Clementi from the Tyler Clementi Foundation joining us.
Register yourself, your students and GSA! We will see you there!
Saturday, November 16, 9am-4pm
South Brunswick High School
Rutgers UBHC/Bridge Center
750 Ridge Road, Monmouth Junction NJ